JSYS Archive
Individual issues and articles of the journal, starting with Volume 38, are available through Project Muse.
The Society also has agreed to participate in JSTOR, with a three-year moving wall. As a result, early issues of the Journal of Song-Yuan Studies, starting with volume 22, are not available on this website but are available through JSTOR.
To purchase back issues of the journal, please contact:
Erik Lyngen, Publications Department,
Institute of East Asian Studies—UCB,
1995 University Avenue, Suite 520N,
Berkeley, CA 94704-2318 (ieas-orders@berkeley.edu)
Latest Issue: Volume 50
Volume 50 of the Journal of Song-Yuan Studies is now available on Project Muse, and print copies are available for members. The Table of Contents is available as a PDF download.
The complete texts of the following issues are available (as Adobe Acrobat PDF files):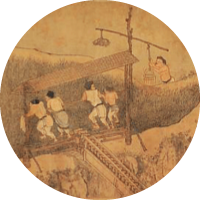 Bulletin of Sung-Yüan Studies
No. 14 (1978)
No. 15 (1979) ▴ No. 15 (1979) ▿
No. 16 (1980) ▴ No. 16 (1980) ▿
No. 17 (1981) ▴ No. 17 (1981) ▿
No. 18 (1986) ▴ No. 18 (1986) ▿
No. 19 (1987) ▴ No. 19 (1987) ▿
No. 20 (1988) ▴ No. 20 (1988) ▿
No. 21 (1989) ▴ No. 21 (1989) ▿
Tables of Contents are available for the following issues: